Interactive Panel
Journey 14 Series
Multi-Touch LED Panel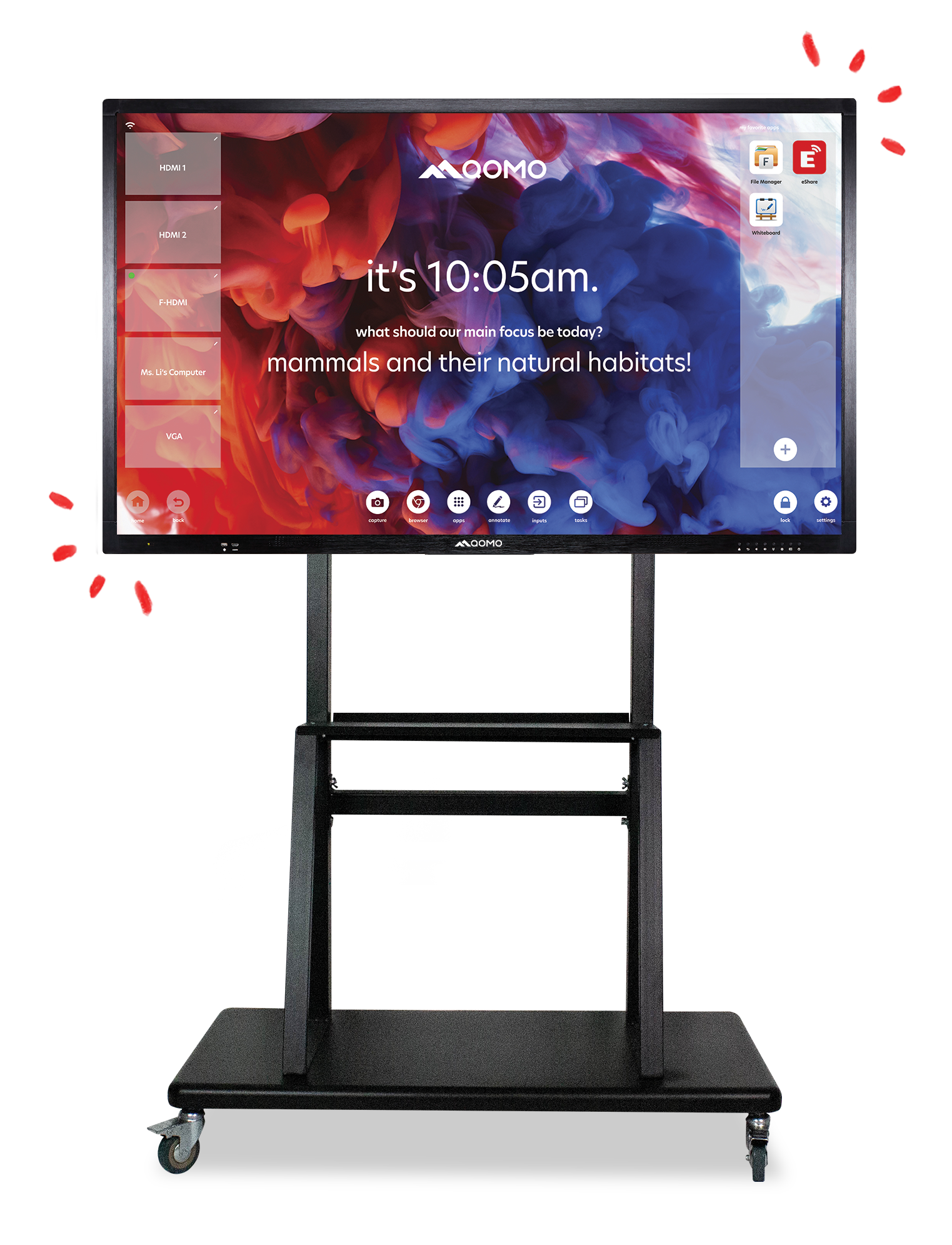 Available in 55" / 65" / 75" / 86"
The QOMO Journey 14 series is our sleekest and fastest interactive panel yet with an all new interface. We added new anti-frustration features, including:
Easy-to-access and hard-to-lose magnetic pens
Built-in Bluetooth so you can mix and match external hardware
Create multiple accounts with unique user profiles
Upgraded 32 GB of storage
Our built-in Android 6.0 operating system makes it as simple to use as a smartphone or tablet. It's a digital display designed for teamwork, with up to 20 multi-touch points and annotation capabilities that perfectly capture the real-life experience of writing on a whiteboard. Plus, you can wirelessly cast up to 4 devices.
choose which apps can be accessed

by other users, and which are locked.
There's work time, and there's play time. You decide what time it is. In addition to a preloaded suite of appsthat includes Google Chrome, YouTube, Airplay, and Office 365, you can access thousands of apps directly fromthe Journey 14. We increased storage to 32 GB, so you don't have to be picky.


our new anti-frustration interface design.
Our new headache-proof design includes friendlier file management and built-in remote capabilitiesfor managing groups of panels from a distance.
multiple accounts equals
more bang for your budget.
We've made it easier to share one device by adding multiple accounts with unique user profiles.
personalize your inputs
and add your favorite apps.
Once you've got it the way you like it, save your preferred settings to your unique profile.
remote panel updates
to save IT headaches.
IT can push updates, send messages and power on and off a group of panels without being on site.
play it safe with our warranty program.
helpful resources for you and your team.
Product Specifications

| Journey 14 Series | | | | |
| --- | --- | --- | --- | --- |
| Sizes | 55" | 65" | 75" | 86" |
| Backlight | DLED | DLED | DLED | DLED |
| Resolution | 4K (3840 x 2160) | 4K (3840 x 2160) | 4K (3840 x 2160) | 4K (3840 x 2160) |
| Display Colors | 10-bit (D), 1.07 billion colors | 10-bit (D), 1.07 billion colors | 10-bit (D), 1.07 billion colors | 10-bit (D), 1.07 billion colors |
| Brightness | 350cd/m2 | 350cd/m2 | 350cd/m2 | 350cd/m2 |
| Contrast | 1200:1 | 1200:1 | 1200:1 | 1200:1 |
| Viewing Angle | 178(H)/178(V) (CR>10) | 178(H)/178(V) (CR>10) | 178(H)/178(V) (CR>10) | 178(H)/178(V) (CR>10) |
| Response Time | 8ms (Gray to Gray) | 8ms (Gray to Gray) | 8ms (Gray to Gray) | 8ms (Gray to Gray) |
| Speaker Output | 2X15W (8Ω) Front-Forward Facing | 2X15W (8Ω) Front-Forward Facing | 2X15W (8Ω) Front-Forward Facing | 2X15W (8Ω) Front-Forward Facing |
| Android System | 6.0 | 6.0 | 6.0 | 6.0 |
| PC | Optional Built-In | Optional Built-In | Optional Built-In | Optional Built-In |
| Working Voltage | 100-240V, 50/60Hz | 100-240V, 50/60Hz | 100-240V, 50/60Hz | 100-240V, 50/60Hz |
| Power Consumption | ≤ 290W <0.5W (standby) | ≤ 290W <0.5W (standby) | ≤ 290W <0.5W (standby) | ≤ 290W <0.5W (standby) |
| VESA | 400x300 | 600x400 | 600x400 | 800x400 |
| Dimensions (LxWxH) | 1294 x 827 x 97mm | 1540 x 939 x 97mm | 1730 x 1068 x 117mm | 1976 x 1206 x 117mm |
| Packing Dimensions (LxWxH) | 1415 x 940 x 220mm | 1621 x 1060 x 220mm | 1848 x 1188 x 220mm | 2097 x 1320 x 220mm |
| Net Weight | 41 kg | 51 kg | 62 kg | 80 kg |
| Gross Weight | 51 kg | 62 kg | 80 kg | 101 kg |

Product Downloads

| | | | | |
| --- | --- | --- | --- | --- |
| Type | Filename | Notes | Size | Download |
| | Journey 14 HW Firmware | 1.0.0.16 Version of Firmware for HW Series of Panels | 1,184.16 MB | Download |
| | Journey 14 GZS Firmware | 1.0.0.16 version of Firmware for GZS Series of Panels | 1,184.16 MB | Download |
| | Journey 14 Quick Guide | Quick Start Guide for Journey 14 Interactive Flat Panel by QOMO | 1.48 MB | Download |
| | Flow!Works Pro User Manual - QOMO IFP Software | User manual for Flow!Works Pro interactive screen software by QOMO. With Flow!Works Pro, experience features including whiteboard, annotation, screen shots, screen record, and more. Use this with any QOMO interactive screen including large format touchscreens (BundleBoard & Journey series), interactive whiteboards, laser projectors, and interactive podiums/monitors. | 2.31 MB | Download |
| | Journey 14 Specs - Spanish Language | Technical specifications for QOMO's Journey 14 series interactive flat panels - Spanish language. | 1.60 MB | Download |
| | Journey 14 Specs - All Sizes | Technical Specifications for QOMO Journey 14 interactive flat panels - QIT1455/ QIT1465/ QIT1475/ QIT1486 | 701.97 KB | Download |
| | Journey 14 i5 PC Specs | Journey 14 PC Specifications _ i5 4G and i5 8G | 437.00 KB | Download |
| | Journey 14 OPS Computer Model S044K Windows Drivers | Windows Drivers for Journey 14 S044K OPS PC. | 1,419.22 MB | Download |
| | Journey 14XX CAD Drawings (GZS All Sizes) | | 1.56 MB | Download |
| | Journey 14 Series Firmware Update Process | This process will update your Journey 14 to the latest firmware. Various bug fixes and enhancements are available via this update. Please note this will erase all current panel data. | 195.34 KB | Download |
| | Journey 14 User Manual | | 1.91 MB | Download |
| | FlowWorks Pro 2.1.59 | FlowPro is a free annotation software that is bundled with our interactive products. | 245.01 MB | Download |
| | Journey 14 Brochure | QOMO Journey - 14 series interactive flat panel is the latest in presentation technology. | 494.21 KB | Download |
| | QOMO Journey Series Warranty Statement | Warranty terms for all Journey Series products. | 415.79 KB | Download |